Description of Plastic Foil::
Plastic foils are referred as those hot stamping foils that are mainly applied on soft an hard plastic materials, such as PP, OPP, PVC, PET, ABS, etc. Our plastic foils provide a wide choice for most plastic applications, covering medium to large areas while maintaining very sharp definition and adhesion.......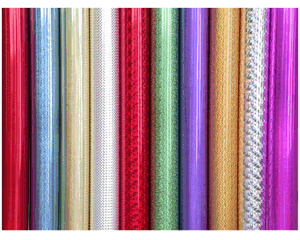 Plastic Foil
Plastic Foils

PC series

1 Available in Bright gold, silver and a wide range of metallic colors.
2 PC series developed to work for many plastics provides excellent stamping definition and adhesion to a variety of substrates.
3 Ideal range for surfaces with adhere difficulties on inks or coatings, has a strong adhesion and excellent stamping definition.

1 Printed, coated and uncoated paper
2 PVC, PP, PE, ABS and PET
3 OPP , BOPP, laminated paper
4 UV cured inks and coating paper

1 High speed machines.
2 Suitable for vertical, cylinder presses and rotary stamping machines.
3 Ordinary paper, OPP film laminated paper, Embossed paper, PP synthetic paper.
4 Water-Based UV ink coated paper, PVC sticker
5 Resin coated paper

Stamping machine details

1 110-140 on up-and –down and platen machines.
2 135-180 on cylinder machines.
3 170-220 on rotary machines

7 / 10 days
Contact BRIDGE Foils for availability of other shades.
Product Description
The standard size: 12microns*0.64m*120m/roll
1) Thickness: 12 microns
2) Width: 0.64m, 1.28m
3) Length: 120m, 180m, 240m, 300m, 3000m, 6000m,12000m
4) Color: Gold, Silver, Red, Green, Blue, Black, Matt colors and Laser
5) Type: A. Foils for paper, b. Foils for plastics.
6) Usage: plastic foil can stamping on plastic.
7) Application: Widely used in the boxes of cosmetic and wine, greeting cards, food packings, top & medium tobacco scutcheons, the festival gifts, the artworks, handbooks, calendars and so on.
8) Special order: Make other sizes according to your requirements