Description of BoppThermal Laminating Film:
We manufacture various types of BOPP transparent thermal lamination films to our customers throughout the world.
BOPP thermal laminating films are lamination films having BOPP (biaxially oriented polypropylene) as base material. We use extrusion coating process to combine layers of BOPP film and thermal laminating adhesive. In the final film one side have properties of BOPP film and the other one becomes heat sensitive surface used for dry lamination.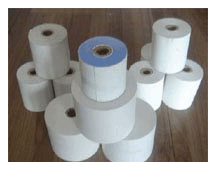 BoppThermal Laminating Film
thickness(mic)

ration/yield

resistance

glossy
Total
thickness
hickness
tolerance
M2/MT
G/M2
G/25MM
17
+/-1.5MIC
63775
15.78
560
20
54230
18.53
560
25
44050
22.75
580
27
40100
25.05
620
30
36150
27.77
630
matt
17
67522
14.91
580
23
50251
19.99
580
27
41300
24.29
620
30
36700
27.34
680
width
200mm-1860mm (±5mm)
length
200m-9000m
paper core
76mm (3")and 25.4mm(1")
connector
≤2
corona treatment
double side
surface tension
BOPP side≥38 dyne, EVA side≥52dyne
application manual
compound temperature
80-110℃
compound pressure
5-25mpa
compound speed
5-60m/min
Advantages of BOPP thermal laminating film made it popular in lamination business. Wet lamination was used some time back for making laminates. BOPP films have a wide range of aesthetics and hence it is easily possible to have various looks of laminating films. Main features of BOPP thermal lamination films are as follows:
BOPP film has a density close to 0.90 g/m3 and hence it provides high yield (m2 per kgs) in the same cost with comparison to some other films like polyester films.
Wide varieties of BOPP films are easily available and therefore BOPP thermal laminating films. For example - Matte, Glossy, Silky matte etc.
BOPP film has reasonable strength for lamination purpose.
Excellent gloss, high transparency, good moisture barrier, good chemical resistance.
Applications of BOPP thermal laminating films
Textbook covers
Brochures
Leaflets
Sweet boxes
Cosmetics
Shopping bags
Diaries