Description of Color Pigment Foil: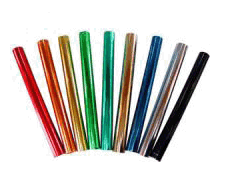 Color Pigment Foil
Pigment Foils

Ref. #

PGM series

Remarks

Available black, white, red, green, purple, grey, blue, mat and other gloss colours.

PGM series developed for coding has very good release and sharpness.

Stamping substrates

Soft and rigid PVC film
Polyester film
Varnished aluminium film
Polyamide film
PP film
PS, ABS, SAN , PE
Films for packaging

PGM range that has a strong adhesion and excellent definition

Prosperities overview

Series PGM01 suitable for large release

Series PGM02 suitable medium release

PGM03 suitable for fine and medium release

Range PGM has excellent resistance to freezing and humidity

Stamping machine details

95 – 140°C -------PGM01

80 - 120°C --------PGM02

100 - 130°C -------PGM03

Availability

7 / 10 days
Contact BRIDGE Foils for availability of other shades.