Description of PET Thermal Laminating Film
We manufacture various types of PET thermal lamination films to our worldwide customers and our PET thermal laminating films mainly fall into following categories:
PET Transparent thermal lamination film
PET Metalized thermal lamination film
PET Holographic thermal lamination film
PET thermal laminating films are used to get some properties which are available in polyester. Some main properties like high gloss and high stiffness are not in BOPP films. For making PET thermal laminating films we need to follow coextrusion process.
Wide varieties of PET Thermal laminating film are available in the market. PET dry lamination films are in wide range of thickness like 0.9 mil to 10 mil (22 micron to 250 micron) with comparison to BOPP lamination films. Since density of PET is 1.4 g/mt2 and we get less yield (kgs/area) than other lower density films.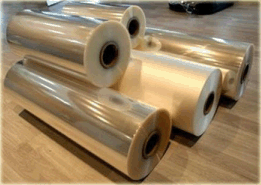 PET Thermal Laminating Film
thickness(mic)

ration/yield

resistance

silver/gold
Total
thickness
hickness
tolerance
M2/MT
G/25MM
24
+/-1.5MIC
27.6
560
width
200mm-1860mm (±5mm)
length
200m-9000m
paper core
76mm (3")and 25.4mm(1")
connector
≤2
corona treatment
double side
surface tension
PET side≥42 dyne EVA side≥52 dyne
Features of PET thermal lamination films
PET dry lamination is done on costly brochures and some basic properties of this kind of laminating films are as follows.
High gloss
High stiffness
High bond strength
Hot stamping
UV coating on surface
High tensile strength
Applications of PET thermal laminating films
Properties of PET thermal laminating films made it so useful to convert into a growing lamination market. Applications of this film are increasing each day. Some main applications are as follows.
Costly brochures
Catalogues
Menu cards
Mark sheets
Maps
Publicity material