Description of Color Cold Foil:
BRIDGE FOILS Technologies holographic and decorative foils products are know throughout the industry as the benchmark of high quality, streamlined service and efficient distribution system. Our patterns are made to be brighter and versatile.
The product line of holographic foils could be used for all types of applications:
Conventional inked papers and cartons
Some UV cured inks labels and carton
Coated paper and cartons
Uncoated papers and cartons
Dry papers and cartons
Some plastic base surfaces as Polypropylene, OPP, PP, ect.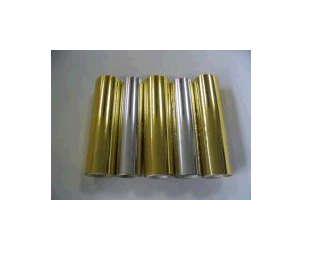 Color Cold Foil
BRIDGE FOILS offers a wide selection of patterns and a variety of custom images suitable for a board range of graphic and plastic applications. Our holographic foils are used to create a dynamic visual impact that maximizes your products ability to catch the eye of the consumer and boost sales.
Our fully equipped facilities, converting, rewinding, cutting, spooling and slitting operations enable us to meet every requirements and ensure a timely delivery.
Grade

Cold Foils

Ref. #

PFX Series

Remarks

Available in Bright gold, silver and a wide range of metallic colors.
The following steps are involved in the through carrier dieless process:

A free radical UV adhesive is web printed onto the substrate using conventional printing equipment, in exactly the same way as an ink or varnish would
Foil is nipped on at a laminator immediately after the print unit
Foil is passed through the UV lamp in contact with the adhesive
The waste carrier is removed leaving the foiled image
Contact BRIDGE Foils for more information on the Cold Foiling technology.


Stamping substrates

Self adhesive labels on semi-gloss and gloss papers and filmic substrates
Advertising materiel
Web printed cartons
Food packaging
Cosmetics
Label , self- adhesive labels
Non-food packaging
Magazines
PFX grade is suitable for all the above substrates but the amount of adhesive printed needs to be controlled to compensate for the porosity and roughness of the substrate and to suit the level of detail being printed.? Best results are normally achieved if papers are primed with a varnish or ink underneath the foil.


Prosperities overview

PFX grade has free release to allow high speed use
PFX grade has controlled metal thickness in order to allow passage of enough UV light through the foil to cure the adhesive.? PFX grade is less opaque than standard hot stamping foils.
In conjunction with suitable adhesives PFX gives similar or superior resistance properties to hot stamping foils.

Stamping machine details

UV flexo and letterpress presses
Application is at room temperature

Availability

7 / 10 days

Contact BRIDGE Foils for availability of other shades.